New study shows: Ventilation
reduces

airborne transmission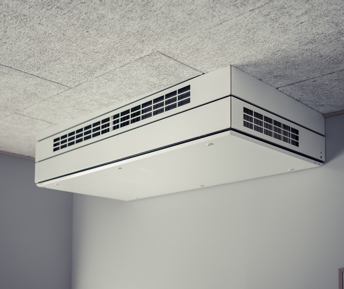 With Corona cases expected to rise towards fall and winter, the World Health Organization (WHO) is encouraging the use of proper ventilation in schools and offices. This urgent need for ventilation in public spaces is further supported by a recently published Italian research project highlighting how effective mechanical ventilation reduces the risk of airborne transmission.

20. March 2023



Fall has made its way back into our daily lives, and with it comes the cold weather and rising concerns about corona infections. The rising concerns stem from previous experience with seasonal variation and epidemic development during the cold fall and winter months. The governments around Europe have therefore prepared for an uncertain and possibly challenging fall and winter season.
While many countries now have a vaccine program ready to protect the most vulnerable part of society, the World Health Organization (WHO) recommends continuously adapting to keep ourselves safe and to take the necessary steps to protect others. One of the highlighted recommendations from WHO to protect people during these seasons is to ventilate crowded public spaces like schools and offices. But why should we focus on the indoor climate in schools when talking about airborne transmission?